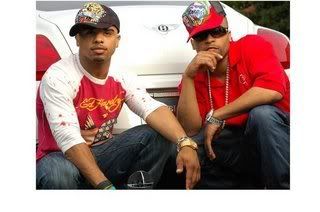 FAT SHOUT OUT TO THE NEW URBAN,HERES THEIR EXCLUSIVE
Recently interviewed Ricardo Thornton (aka Ricky Romance), entertainment manager, former boy-bander, and brother of Raz B, on the child molestation allegations they've made against entertainment mogul Chris Stokes. In the interview, Ricky gives the lowdown on Chris Stokes who he alleges molested him, his brother and several other young boys trying to break into the industry.
Ricky was very open, sincere and unafraid in answering my questions, stressing that he wants the public to know the truth.
TNU: Have you talked to Raz B since the scandal broke on the internet?
RICKY ROMANCE: I just got off the phone with DeMario (Raz B), and the apology tape is not real! Chris had people force Raz to read a script and coerced him into taking money. I talked to DeMario and the money will be returned. We want this done right. We're putting this message out there for all of the innocent kids who get abused and are then forced to be silent.
TNU: Rumors have swirled that Raz B was forced by gang members to take back his statements against Chris Stokes. Is this true?
RICKY ROMANCE: I won't say names of who it was who came at Raz to take that shit back, but I'll tell you that it was some street niggaz. That's all Ican say.
TNU: Since you released your molestation allegations against Chris Stokes, has there been backlash?
RICKY ROMANCE: Listen, yes. I'm being followed. Niggaz are threatening my life, but I don't care. I stand by what I said because it's the truth. Maybe I'm the only one brave enough to talk, but this has gone on for too long. I just want Chris's sick child molesting pedophile ass to go to jail. Period.
TNU: How is Stokes threatening you?
RICKY ROMANCE: Right now he's trying to intimidate us. Chris Stokes is very connected. His best friend is the Los Angeles Chief of Police.
TNU: How did the alleged molestation start?
RICKY ROMANCE: All of this is my fault. Chris tried this shit with me and I let it happen to my brother. Chris came into our lives at a vulnerable time. Our mother was on drugs and having problems in her marriage. He was our father figure. The sad thing is, I love Chris. That's my family. He took DeMario in and was supposed to show him a better life. That better life was just financial. DeMario never finished school, hardly saw a dime and was molested from the time he was little until he stopped it.
TNU: Were you and Raz B the only boys who worked with Chris that got molested?
RICKY ROMANCE: Chris told all of us "participate in those fuckin gay acts, and you'll always be taken care of."
TNU: Chris is claiming that the reason you and Raz are speaking out is because he cut you off financially. Is this true?
RICKY ROMANCE: Chris is trying to dig up dirt on me. Yeah, I have a past, made some mistakes but that was the past. I do incredible things in the community, I'm a business man. I care about young people, unlike Chris whose life is about manipulating and exploiting young people. Chris Stokes has not supported me, my brother or my mother financially since B2K ended. That shit is just false. He bailed DeMario out recently when he had legal issues, but that was it. He made that shit up.
TNU: Is speaking out on the issue of molestation in the entertainment industry hard?
RICKY ROMANCE: I'm a man. The shit that happened to us as kids were dead wrong. And it wasn't just us.
---
This was just the beginning